Ocean Dive Supply Philippines wetsuit repair shop can patch up your old suit, change/add a zipper or simply add a new stitch.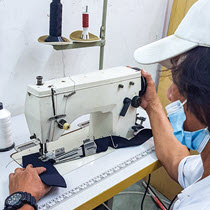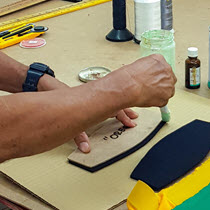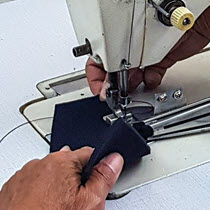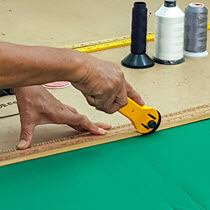 If you have your own suit and have got a small cut in it or a stitch has become loose see if we can repair it before it get too bad. You might get a few more month use of your old suit for a small amount of money before it is time to change it for a new one.
For the rental suits that have the same problem as above, shourders or knees need patches or just change a zipper we are happy to do our best to repair them regardless of what brand. Please remember if you have a suit that are worned out you will get back a repaired worned out suit, we can't make them new.
Additional to the wetsuit repair we also producing a number of different accessories made out of neoprene.

Soft Neoprene Maskstrap Cover. It offers comfort and helps to hold the mask strap. The Neoprene Maskstrap Cover is constructed of the finest materials with Glued, Taped and Sewn Edges for Strength and Durability.
As this are not printed you may add print yourself like your name or a dive centers/resorts logo to make it a nice souvenir from your dive destination.
Available in 7 different colour combinations and black with ODS logo.

Nitrox tank band made from top quality 3mm neoprene (same quality as Cressi LUI & LEI wetsuits but full 3mm), very flexible to ensure it is easy to slide on the tank yet tight enough to firmly stick in the position on the tank. Inhouse production to ensure quality and after sales service.
Ideal when tanks are used for both Air and Nitrox mix.

Soft Neoprene Weight Pouch to protect your weight pockets from sharp corner of the lead weights. Also for BCD's with trim pockets on the back, those are often damage by lead weights with sharp corners and edges.
This weight pocket is a good investment to protect your BCD and weight pockets for a small amount of money.
Fit 2-4 lbs weights

Beverage (Beer) Cooler made of soft high quality neoprene. Fits most regular size bottle (33cl) and cans. Keep the hands dry and aborbs the condensation from the cold bottle to avoid a pool of water around your bottle.
Add your logo if you have a business that you want to promote and sell the cooler to your guest or simply give them away to VIP guest. Don't forget to print your website or contact details.
Comes in 5 different colours.