The Cressi Atelier program is here to help all re-sellers of Cressi product to sell products that are not offered online anywhere. We slowly bringing in this products to build up a full range of "store only" products from Cressi.
Cressi Omega ultra-dry snorkel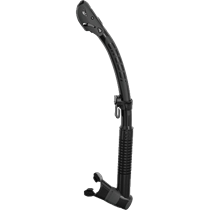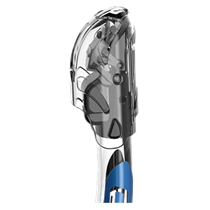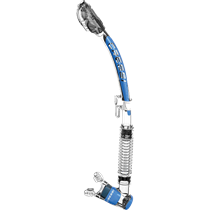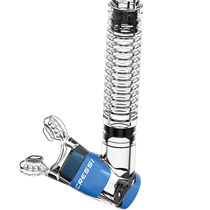 Omega Ultra Dry is the perfect snorkel for diving and snorkeling.
The Omega Ultra Dry snorkel features at the top end an internationally patented dry guard, which prevents water entry while using it on the surface in any position.
The new mechanical device has three movement joints, whose counterweight ensures immediate opening of the upper valve whether you dive or emerge from the water.
The lower part is equipped on the inner side with a smooth flexible corrugated section, which keeps the aerator away from the mouth while using any breathing apparatus.
The mouthpiece, made of soft silicone, has an angle studied in a particularly ergonomic way, with a reduced bite size for prolonged use without gum fatigue. The mouthpiece body consists of two pieces, with an inclination that ensures better and faster water drainage. A lower purge valve enables instant clearing when needed.
The transparent tube has a side reinforcement in coloured rubber.
Special patented new Aquastop valve: very efficient on up / down positions
Dry guard: seals breathing tube when submerged
Mouthpiece: drops away when not in use - great for scuba divers
High-quality silicone mouthpiece: is comfortable and durable
Angled anatomical mouthpiece: reduces jaw fatigue
Lower purge valve: allows water to be quickly expelled
Streamlined design reduces drag while swimming
Adjustable clip for securing to any mask
SRP: Php 2,904.00
Find full range of snorkels here
If you need help please contact one of our 8 stores → → → → → → → →